When it comes to renovating your bathroom or building a new one, selecting the right shower enclosure is a crucial decision. Shower enclosures not only play a fundamental role in the functionality of your bathroom but also contribute to the overall aesthetics of your space. With a wide range of options available on the market, it can be a complex task to decide which shower enclosure is best for your needs. In this article, we will examine some key aspects to consider when choosing a shower enclosure for your bathroom.
Bathroom Size
The size of your bathroom is a determining factor in deciding the shower enclosure. Measure the available space carefully to ensure you select a shower enclosure that fits perfectly. If you have a small bathroom, you may want to consider a corner or sliding shower enclosure, which takes up less space than a hinged door model. On the other hand, if you have ample space, you might opt for a niche or fixed wall shower enclosure.
Type of Door
Opening Shower enclosures come in various door opening options, each with its own advantages and disadvantages. The main door opening options include:
Hinged: These shower enclosures open like a traditional door. They are easy to use but require sufficient space for opening.
Sliding: Sliding shower enclosures are perfect for tight spaces, as the doors slide along tracks. However, they may be less accessible than hinged models.
Folding: These shower enclosures have doors that fold in on themselves when opened. They are ideal for very compact spaces but may require extra maintenance.
Shower Enclosure Material
Shower enclosures are made from various materials, including glass, plastic, acrylic, and tempered glass. Tempered glass is a popular choice due to its durability and elegant appearance. It is also more resistant to scratches than plastic or acrylic. However, glass requires regular cleaning to stay transparent and free of stains.
Among the materials used for shower enclosures, plastic is one of the available options. This material offers distinctive features that might make plastic shower enclosures suitable for specific situations. Here are some detailed insights into the plastic shower enclosure options available on Grim Network:
PVC Alpha Series Shower Enclosure
The PVC Alpha Series shower enclosure is an ideal choice for those seeking an economical yet sturdy alternative. PVC is known for its resistance to moisture, corrosion, and deformation, making it a durable choice for a humid environment like the bathroom. This model is angular, meaning it fits perfectly in smaller spaces. Additionally, PVC offers relatively easy maintenance, making this shower enclosure a practical choice for those who want a durable solution without breaking the bank.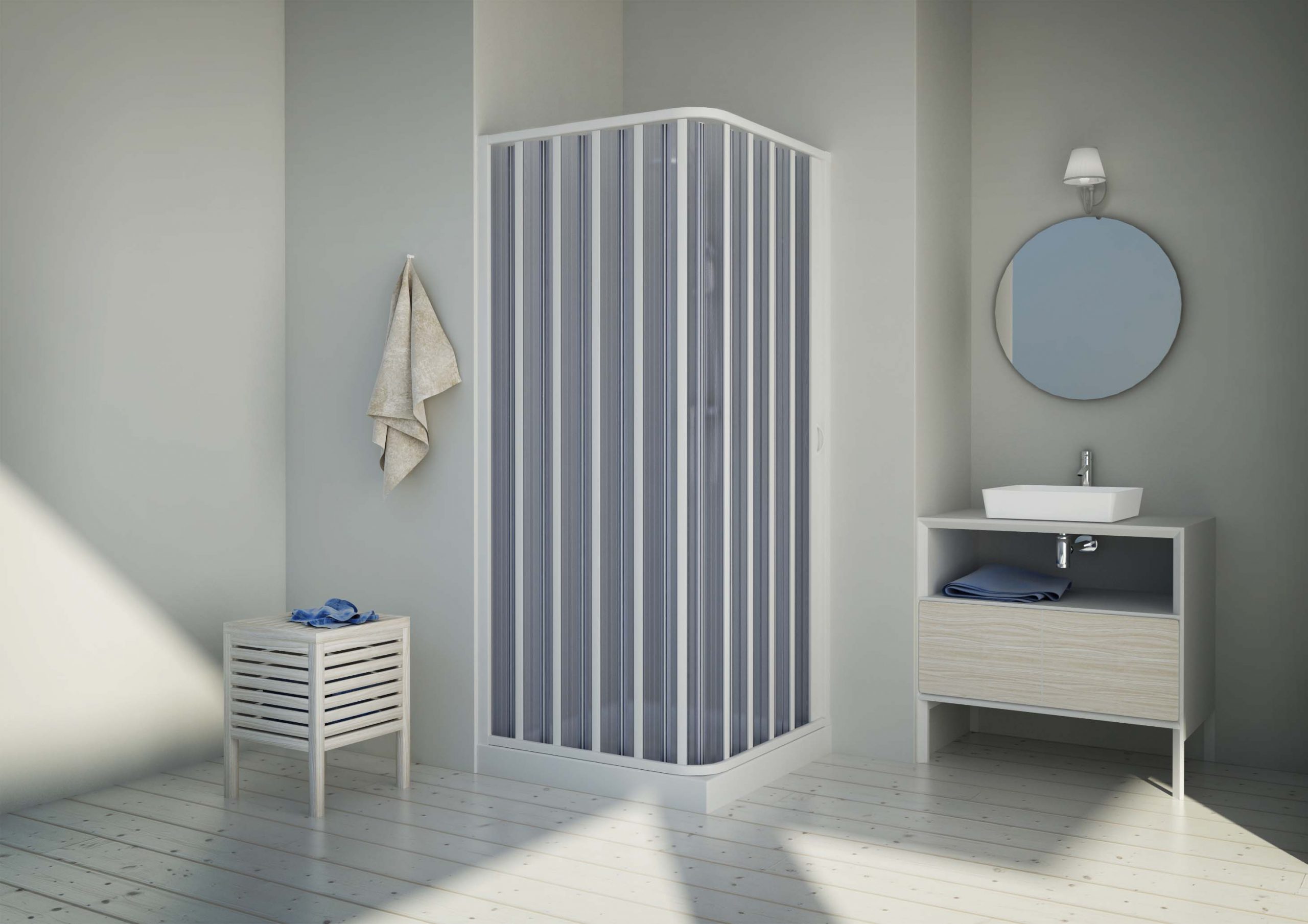 Learn more about the PVC Alpha Series Shower Enclosure
PVC Sirio Series Folding Shower Enclosure with Central or Side Opening
The PVC Sirio Series folding shower enclosure offers opening flexibility, with the option to choose between a central or side opening depending on your preferences and bathroom needs. This model is made of durable PVC, which is highly suitable for use in humid environments. The folding feature makes this shower enclosure particularly suitable for tight spaces since it doesn't require space for hinged door opening. It's a practical option that provides comfort and functionality.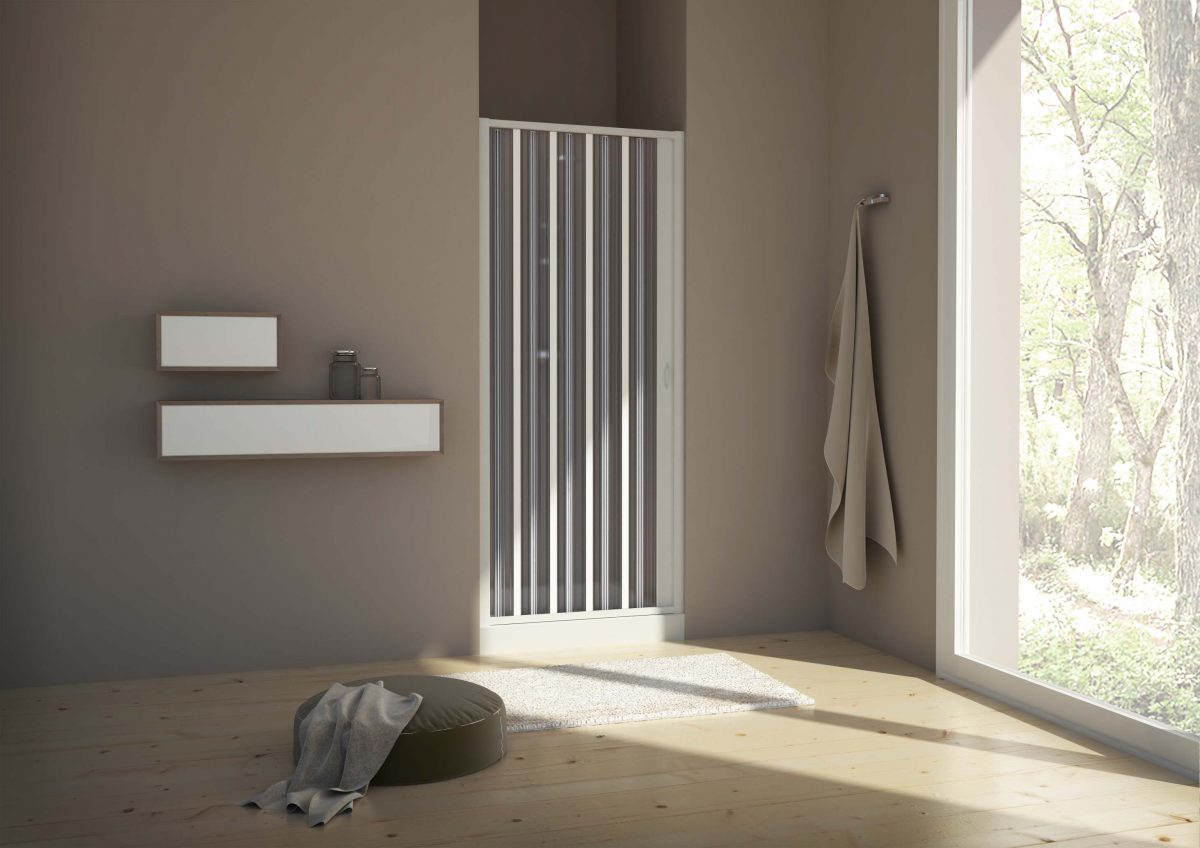 Learn more about the PVC Sirio Series Folding Shower Enclosure
Delta Series Strong Three-Sided Folding Shower Cabin
The Delta Series strong three-sided folding shower cabin is a versatile option for those looking for a complete shower enclosure with three walls. This model is made of durable plastic and offers an elegant design with folding doors for easy shower access. It's a practical solution for those who want a complete shower cabin suitable for various bathroom layouts.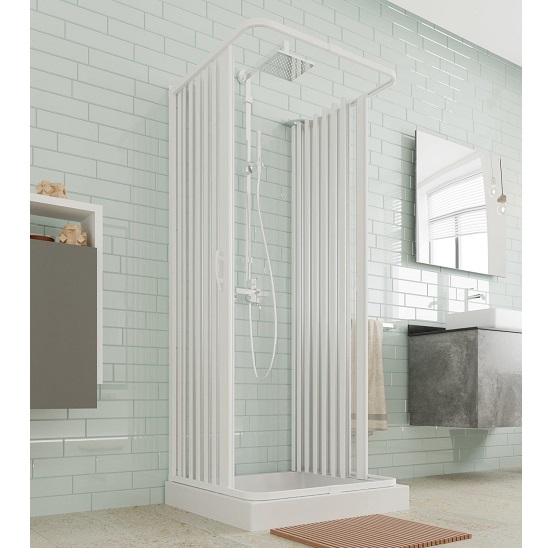 Learn more about the Delta Series Strong Three-Sided Folding Shower Cabin
In summary, plastic shower enclosures, like the ones presented above, offer practical and cost-effective solutions for anyone in need of a new shower enclosure in their bathroom. Moisture resistance and ease of maintenance make them an attractive choice for many. However, it's essential to consider your own needs and lifestyle before making a final decision on the shower enclosure material.
Type of Doors
Shower enclosure doors can be transparent or opaque, depending on your privacy preferences. Transparent doors provide a more open and spacious look but may require more frequent cleaning. Opaque doors, on the other hand, offer greater privacy but can make the bathroom appear smaller.
Additional Accessories
Many shower enclosures come with additional accessories, such as shelves for storing shampoo and soaps, handles for added security, and hydro-massage systems for a luxurious shower experience. Consider which of these accessories are important to you, and ensure that the chosen shower enclosure either includes them or allows for their addition later.
Budget
Lastly, it's significant to establish a budget before starting your search for a new shower enclosure. Shower enclosure prices vary significantly based on size, materials, and included accessories. Once you've set a budget, you'll be able to narrow down your options and find a shower enclosure that meets your needs without exceeding your finances.
In conclusion, choosing the right shower enclosure for your bathroom requires consideration of various factors, including bathroom size, type of door opening, material, door type, additional accessories, and budget. Take the time to carefully examine the available options and select the shower enclosure that best suits your needs and style. A well-chosen shower enclosure will not only enhance the functionality of your bathroom but also add a touch of elegance to your space.